LS Community Closet
The L-S Community Closet is a community organization working closely with the school district to lend a helping hand to students. We collect gently-used clothing for qualifying students to select through our main clothing closet located at Lampeter United Methodist Church.
The Closet also assists students and families with educational, medical, housing and other needs through targeted campaigns.
Our goal is to support families in our L-S community. Not all needs are visible to all of us, but they are there daily in our classrooms.
What We Need (grades K-12):
Gently used clothing and shoes for children to wear to school; please be selective
White dresses for graduation to wear under gowns
Graduation gowns
Orchestra and band concert clothing for students to wear when they perform, including boys and girls black pants and shirts, white shirts and black shoes for grade school and middle school students and black clothing for high school students
Monetary donations – for student who need medical or dental assistance until a more permanent solution can be put into place
Any CTC uniforms
Sportswear for L-S students
How to Help
Please make checks payable to L-S Community Closet, P O Box 14, Lampeter PA, 17537-0014.
Please contact Ilse Medlock at imedlock@comcast.net, or by phone at 823-6115, with any questions.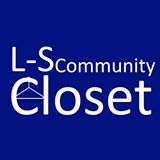 It takes a village to raise a child
- African Proverb